The GWRS is the largest indirect potable reuse project in North America and is jointly sponsored by the Orange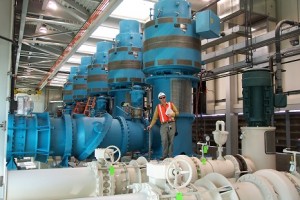 County Water District (OCWD) and the Orange County Sanitation District (OCSD). The GWRS purifies secondary effluent through MF, RO and UVAOP. The purified water is returned to the groundwater basin through recharge and seawater intrusion barrier wells.
Capacity: 86 mgd MF, 70 mgd RO
Technology: Advanced Water Reclamation with Microfiltration, Reverse Osmosis & UVAOP
SPI Role:
SPI provided PMOS services between 2004- 2006 for the 5 mgd demonstration facility that preceded the GWRS. Since startup of the 70 mgd facility in 2008, SPI has provided bimonthly performance audits as well as provided input and guidance for membrane autopsies & foulant analyses, pretreatment chemical procurement, cleaning assessments, membrane replacement qualification and specification. Working with operations staff, SPI also developed a unique approach to optimizing RO cleaning intervals that considered both cleaning and energy costs.