The GWRS is the largest indirect potable reuse project in North America and is jointly sponsored by the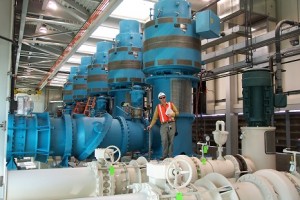 Orange County Water District (OCWD) and the Orange County Sanitation District (OCSD). The GWRS purifies asecondary effluent through MF, RO and UVAOP. The purified water is returned to the groundwater basin through recharge and seawater intrusion barrier wells.
Capacity: 86 mgd MF, 70 mgd RO
Technology: Microfiltration, Reverse Osmosis, UVAOP
SPI Role:
SPI under direct contract with OCWD, was the lead membrane process design engineer responsible for selection of the membrane technology for the GWRS. SPI led the MF and RO pilot and demonstration testing. SPI led the MF procurement and lifecycle analysis. SPI was responsible for specification and drawings for the complete RO system including the RO train fabrication drawings.