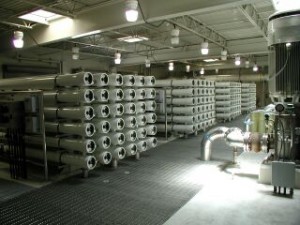 SPI is at the forefront of applying membrane processes for treatment of brackish and impaired Groundwater sources. SPI has designed over 30 groundwater treatment systems including Membrane Filtration(MF), Nanofiltration (NF) and Reverse Osmosis (RO) systems producing over 75 mgd of potable water. SPI has designed the systems for Total Dissolved Solids (TDS) reduction, softening,and the removal of nitrate, arsenic, iron, manganese and organics.
As a result of pilot testing associated with the design of several full-scale systems, as well as several ongoing contracts for full scale process monitoring and optimization services, SPI is able to keep abreast of performance issues associated with long term operation of groundwater treatment facilities.
Contact SPI to discuss your groundwater application and how we can assist in ensuring its successful implementation and operation.
SPI's Project Files
SPI's array of projects encompasses many areas of water treatment. Below is a sampling of projects completed by SPI's engineers and staff.