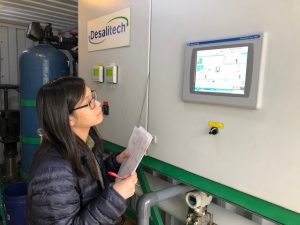 Separation Processes, Inc's Membrane Support Services (MSS) helps staff understand their specific membrane treatment process and can identify events and occurrences that could adversely affect the performance of their facility, resulting in unplanned and costly maintenance.  We can also assist plant operators and management in reducing plant O&M costs through optimization of the treatment process.  Time and time again, these services have proven to be invaluable to our clients, ensuring process integrity, reliability and efficiency for their membrane plants offers a wide range of capabilities and services for clients already operating full scale membrane treatment facilities.
Drawing upon our roots in membrane plant design and our thorough understanding of membrane processes, SPI has assembled a dedicated staff to provide operations support for our clients who own and/or operate membrane systems.  These services are tailored to meet individual client needs and serve to supplement the client's existing knowledge and experience base.  Our services include routine or periodic review of operating data for UF, MF, NF and RO systems to achieve and maintain maximum operating efficiency and minimum cost.
Unrivaled Membrane Technology Experience
SPI is currently supporting more than 500 mgd of membrane treatment technologies.
Unrivaled Industry Experience
SPI's breadth of understanding for membrane treatment technologies
Services Provided
Membrane Performance Audits
Data Normalization
Chemical Cleaning Assessment
Chemical & Equipment Procurement
Membrane Replacement Assessment
Forensic System Analysis
Membrane Autopsy
Membrane Life Evaluation & Replacement

Contact SPI to discuss your membrane plant's performance and optimization.
SPI's MSS Projects
SPI's array of projects encompasses many different facilities. Below is a sampling of facilities and a description of the support services provided SPI.