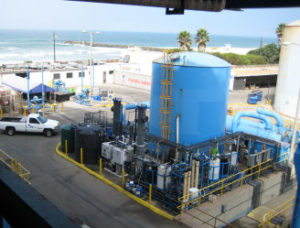 Seawater desalination by Reverse Osmosis has seen substantial improvements in technology in recent years, which favorably impact the cost of implementation and ability to meet water quality objectives. Improvements in energy recovery devices, new membranes, and in some cases co-location with power generation facilities are projected to reduce the cost of water to be competitive with many alternative supplies. SPI has designed various seawater RO systems and is assisting communities and agencies with the evaluation and design of seawater desalting membrane facilities at various locations. SPI has managed long-term pilot testing programs investigating the use of Membrane Filtration (microfiltration and ultrafiltration) as pretreatment for seawater Reverse Osmosis.
Contact SPI to discuss your seawater desalination application and how we can assist in ensuring its successful implementation and operation.
SPI's Project Files
SPIs array of projects encompasses many areas of water treatment. Below is a sampling of projects completed by SPI's engineers and staff.