Authors: Eric Owens, SPI, Carl Spangenberg, Arseny Kalinsky – Irvine Ranch Water District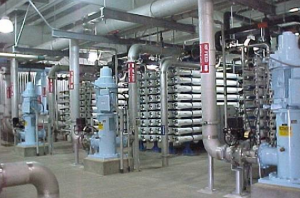 A concentrate recovery membrane system using nanofiltration elements has operated successfully in removing highly concentrated, organic laden water with color levels in excess of 2000 color units since 2007. Starting in 2010 a significant increase in cleaning cycles from once every three months to once a month was experienced with the eventual replacement of the original elements in January 2013.
Causes of the increased cleaning frequency was identified as being caused by both organic fouling and scaling by calcite precipitation as verified in the permeate side of the membranes via membrane autopsy. In less than one month of operation of the system with the new elements a significant loss in specific flux was experienced. This has resulted in multiple cleaning events on a much more greater frequency. The focus of this paper will to present the case history of the performance of the concentrate recovery membrane system with specific focus on the discussion on the causes of the accelerated specific flux decline, membrane autopsy results, water chemistry evaluation, and results of alternative cleaning strategies on improving the performance of the membrane system.